I went exploring today and found the new
Village Wools
. It's huge, it's gorgeous, and they had BOTH books I've been jonesing. I looked through "Socks, socks, socks" and it's now MINE, MINE, MINE! The extra-added bonus is I found sock patterns for nephew & his gf, so I don't have to send off for the kit - just get my butt down to the afore-mentioned Village Wools or to one of my LYS's in SF. VW also had Victorian Knitting Today, which WILL be mine, but at $30, we'll be a-waitin' for that sweet little purchase - prob after Christmas (since I don't have time to be knitting lace right now, anyways!) So, I'm feeling very happy with my non-progress on my Christmas knitting - I now know WHAT, I just need to find out WITH WHAT. I did my Target (pronounced tar-jay, thank you very much) shopping at lunch, too, so I get to go straight home after work. 'Course, lunch was an hour and a half today (thank goodness for maxi-flex!) so I'll be going home a bit later than usual, but that's ok. There's pizza and quite possibly beer in my future, so I'm a very happy woman. Crampy and Grouchy seem to have left the building for a bit, although Crampy will probably be making a re-appearance (judging by the way I feel right now). I've got ibuprofen to tame that little bugger - he'll be gone soon enough!
I'm feeling very guilty for the picture-lessness of my blog lately, so I took some pics of the lovely pink gloves I'm working on. Here's the glove viewed from the air:
And here's an extreme close-up of the stst portion of the palm: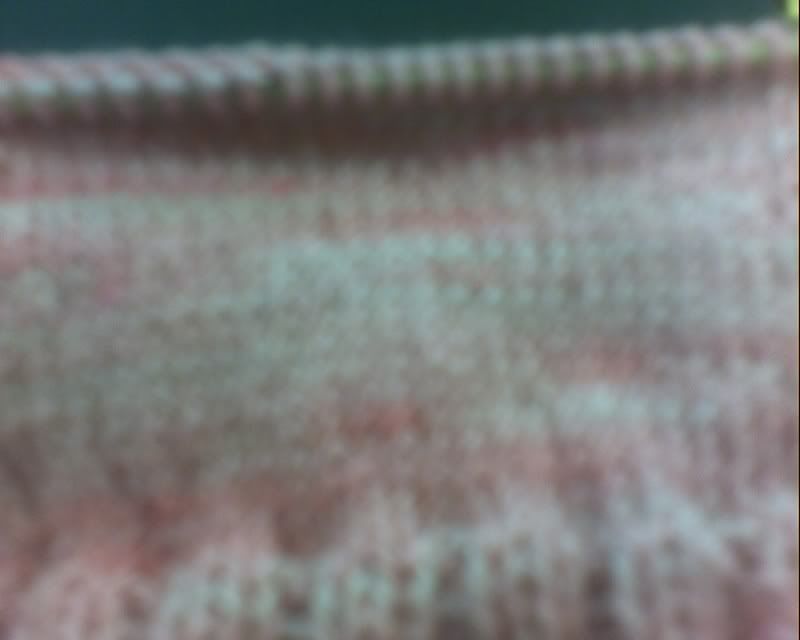 See?? I DO TOO KNIT!!!! and occasionally take pictures.