The kidlet's first sock:
That's the bottom (sole) - here's the top (instep):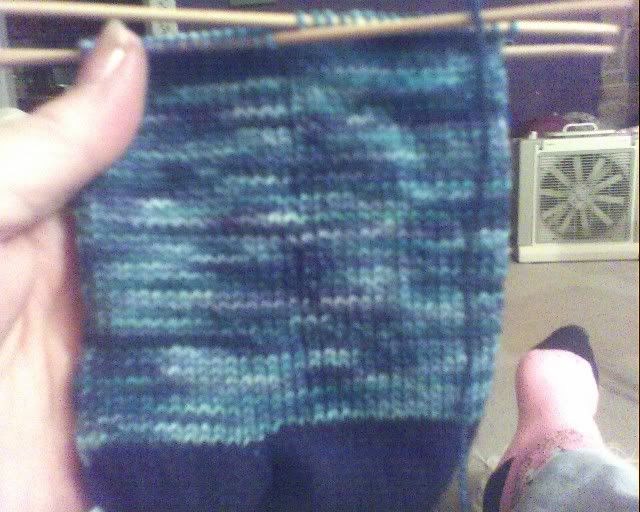 I'm calling these 'The Water Socks' - I think the Koigu looks like water, don't you? I forget what they called this, or even if it has a name - I was so excited that she actually found a yarn she liked, I didn't even realize it was Koigu until I got home and started working with it. This is KPPPM - and I have to say that I really, really love it! I've worked with KPPM before, and, quite frankly, I could take it or leave it - but this stuff is FANTASTIC!!! It's wonderful to work with, slightly shimmery, and the colorway really looks like ripples in a pond - to me, at least!
They're toe-up (my first) Tabi socks, and will be knee-highs (per kidlet's request). We'll see how close I get to what she imagined, but for now, they look like I'm knitting socks for a cloven-hoofed individual - I most assuredly am not! She has normal toes, just like everyone else, she just likes her flip-flops more than most. So, if I'm very lucky (and slightly good), she'll have socks to wear this winter.