Just a quick update and pics!! Thanks for all the good thoughts and mojo this weekend - I definately felt y'all with me as I determinedly re-started my lace.
Sheepish Annie
- there were plenty of "those" words - it's amazing how the properly-place expletive just seems to make that recalcitrant k2tog do what it's supposed to do.
Julie
- It's not the yo's that give me fits, it's the counting. And
Debby
- I tried to email you, but it bounced back. Will try again.
OK, the pics:
This is a shot of 2 of the pattern repeats - there are 20 in all. Julie, thanks SO MUCH for the suggestion of placing markers at each repeat. As much as I HATE moving markers, this saved my sanity!!!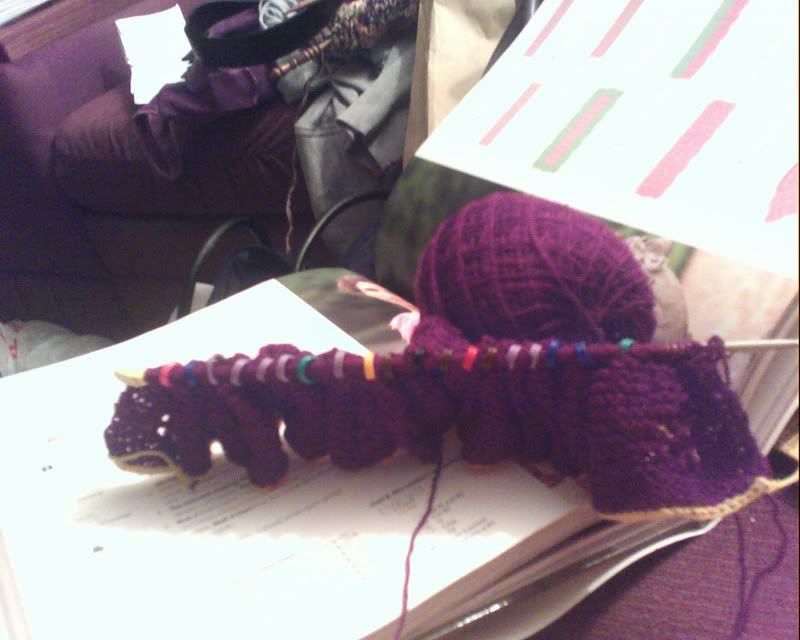 This is a shot of about half-way through. It's a really simple lace pattern, 12 stitches repeated 20 times across the row, and a 14-row repeat done twice. I'm almost done with the second repeat, after which I switch to the circulars, and do the lace edging. I forget the page number, but it's the Opera fichu (I think), it's pink in the book - you can see it (a little) in the background of the second shot. I'm hopint to move to the circs tonight - will let you know how that goes!